29th May 2012
I usually try to get away to the hills during the last week of May every year (when Anne is away at Whithaugh Park with Selkirk High School S1).  This year I had several unavoidable work commitments, which meant the options were limited.  However, I had meetings in Stirling and Edinburgh on the Monday, then Glasgow on the Wednesday, so reckoned I could fit in a hill day in between.  Where to go?  Somewhere not too far north, maybe an unclimbed Munro Top?  I decided to head for Starav, and visit the two outlying western tops.
So, on Monday evening, I headed up the A85, stopping for a fish supper at Callander.  I pondered my plan – I had been a bit later leaving Edinburg than expected, and the road signs were warning of heavy rain and possible flooding …   By the time I reached Crianlarich, I had formulated a new, less ambitious, plan,
I parked up in the big layby on the A82, about a mile from Crianlarich on the Glasgow road, and settled down for the night (I was in the Espace, so plenty room to lay out a sleeping bag).  Next morning, I was up, had breakfast, and set off at 8.15am.
Across a boggy field, under the railway, across the river on a wooden bridge, then followed the track south.  The aim was to climb An Caisteal and Beinn a'Chroin, which had been my Munros 27 and 28 back in 1981, with Anne, Mary and Conan.  Then, we had approached from the Balquhidder side, so this was a new route for me.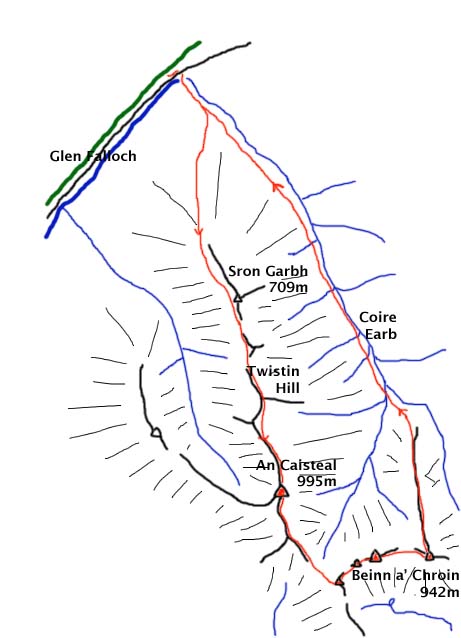 Branching off from the track, I headed across some rough ground towards Sron Garbh.  The cloud was down at about 300m, but it turned out to be a dry mist, which was a pleasant surprise.
No views, but I was able to walk in shirt sleeves and stay completely dry.  A path led steeply up towards Sron Garbh, bypassing on the right, then along the aptly named "Twistin Hill", the sinuous northern ridge of An Caisteal.
Gradually getting steeper, I continued up the ridge, easily overcoming a few rocky outcrops that loomed out of the mist, and a strange gully running down and across the path.
Soon I arrived at the summit of An Caisteal (995m), and sat down for a rest.  The sun almost broke through, but not enough to reveal a view.
On down a stronger path, winding down the steep south ridge.  Where a path branched off to the right for Beinn Chabhair, I carried on straight ahead, down to Bealach Bhuidhe (the yellowish pass) at 801m.  Ahead, I was faced with the steep face of Beinn a'Chroin.   I followed a clear path slanting up the right, which led to the foot of a break in the cliff.  This required a tricky pull up on slightly damp rocks – the sort of place where you wish there was someone else there in case of a slip.   No mishaps, though, and soon I reached the bumpy summit ridge.
Which bump was the real summit?  Tricky to be sure in the mist, although it appeared to be the third one!   (Confirmed later on a 1:25000 map, at 942m)
Beyond this, the ridge dipped down more before rising to the final top (940m).
After another rest, coffee and bite to eat, it was time to head back to the car, 4 miles away.  Easy slopes led down to a narrowing ridge, then a short steep descent to the upper reaches of the River Falloch in Coire Earb.
Then  a long trudge on a faint path, down the valley, passing one notable massive boulder (below) en route.
The start of the landrover track was a welcome sight, and the last 2 miles were soon accomplished.  2.15pm.
So, three 3000ft summits so far in 2012, all in mist (a pattern that was to continue!).
Summary: 13km walk, 1000m climb, 2 repeat Munros, 6 hours.
6 months later, I spotted this superb aerial view of the Crianlarich hills,  taken by Tim Aitchison, among readers' pictures on the BBC website.  Ben More and Stobinian prominent in the centre of the picture,  and my route on An Caisteal and Beinn a'Chroin marked in red.  Pity I didn't have such a clear day!