10th July 2012
With Lugnaquilia successfully climbed, we moved on from our campsite at Roundwood, across the central plains of Ireland to The Apple Farm in Co. Tipperary.  What a super place!  A working orchard combined with campsite, with eating, cooking and washing facilities inside a huge barn.  Lovely green grass under trees – although, not surprisingly, pretty damp.
The weather on our first day looked pretty unpredictable, so we did some sight-seeing: firstly Cahir, then the Rock of Cashel. Right enough, we had a few blinks of sunshine, some heavy showers, and a rumble or two of thunder.  The Galtee mountains remained defiantly hidden in cloud.
Next day, Tuesday, looked a little more promising, so we set off to climb Galtymore, the next 3000ft target on my list.  We drove through Cahir, and on along a typical Irish main road – straight and wide, with a near-deserted motorway running parallel!  We turned off up "the black road", a typical narrow Irish lane, running directly uphill for 2 miles to a wee car park at 330m above sea level – a good start!
There was some dampness in the air, but it was warm and humid,  as we started the walk uphill at around 10.45am.  Although called "the black road", it was very green, with lush vegetation on both sides as we set off from the car park.  Further up, it became drier and rockier, as the track climbed out of the valley onto the broad shoulder of Knockeenatoung, a southern outlier of Galtybeg.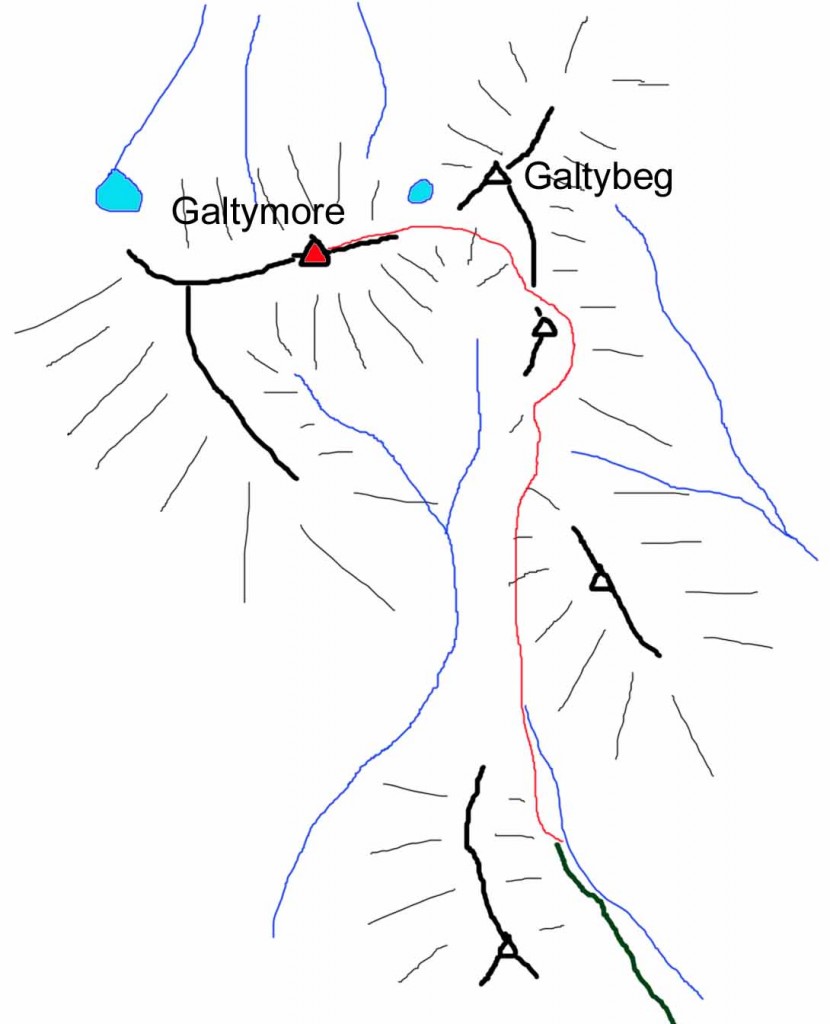 The view was opening up ahead, but unfortunately, the top still had is head very firmly in the clouds!  We continued across a broad level area, where we made a short diversion to look at a memorial to the crew of a light aircraft which had come down nearby.
We followed the path as it climbed up to the right across the front of the next wee bump, and then petered out suddenly on the next col below Galtybeg.  From here, we picked our way out of some peat hags, and then slanted across the hillside towards the col between Galtymore and Galtybeg at 700m.  This proved to be a horrendous wet peat bog, which couldn't be avoided.  We tried to pick the driest route we could find (without much success), then slithered our way up towards the summit, keeping to the north side.  Gruesome!
Eventually, we climbed up out of the peat bog – and into the mist!  As we struggled up towards the summit, the mist turned into sleet and hail, and we were glad to coorie down under the cairn to get some shelter, as we ate our lunch at 1pm.
The sleet turned into a very wet and cold shower, with a hint of thunder nearby, so we didn't linger, and hurried back down to the col, and its acres of peat slurry.  Yuk – what an unpleasant place.  I doubt if it ever dries up, even in a dry season!
We were glad to get back onto the grassy slopes of Galtybeg, and soon the top of the "black road" appeared.  A final heavy downpour and a rumble of thunder, then the sky cleared to patches of blue above us, with a strong sun shining through.
And so, we headed off, rather bedraggled down the track.  The map in my pocket had turned into paper mache despite the Goretex lining!
On the way down we met a farmer rounding up his sheep, and had a chat about farming in Ireland and Scotland (at least, I think that's what we were talking about, but his broad Irish accent took some understanding!)
We retraced our upward route back down the track to the car,  reaching the car park at 3.25pm.  Changed into dry clothes, and headed down into Cahir for a coffee!
Next day dawned bright and sunny – we visited the Mitchellstown Cave – but Galtymore was still stubbornly "head in the clouds", so it wouldn't have been worth waiting!
Summary:
1 Furth
11 km walk
600 m climb
4 hours 15 mins
Log:
| | | |
| --- | --- | --- |
| Black Road car park | 10:45 | |
| Galtymore | 13.00 – 13:15 | |
| Black Road car park | 15:25 | |
(written and uploaded 28/08/13)