And so, the end of the week arrived.  We'd enjoyed some good walks and interesting visits, but no mountain summits at all!  We woke on Saturday morning to blue skies – the perfect day.
Quick decision – it's not a long journey home, so there should be time to climb the Glyders.   Anne kindly agreed to drop me off at Pen-y-Gwryd on the south side of the Glyders, and meet me at the other side a few hours later.
We stopped at the viewpoint high above the Afon Glaslyn for the fantastic clear view of Yr Wyddfa (Snowdon).
So, at 10am, I set off from Pen y Gwrd across the boggy fields behind the road, then climbed steadily northeastwards up the south flank of Glyder Fach on a good path, getting drier higher up.  Plenty of excuses to stop on the way up – for the view back across to Snowdon and Crib Goch.
Soon this levelled out onto an area of moorland, with a number of paths across.  Rather than making directly for the summit, I first headed across to the north side for a good view of Tryfan.
It was possible to see the tricky/scary route Anne and I had followed to the summit back in October 2007.
After a few photos, I turned back uphill to climb the last 200m to the rocky summit area of Glyder Fach.  What a jumble of rocks!   This would have been a nightmare in the mist, on wet rocks, if we had continued on Thursday!  Just as well wiser heads prevailed.
A rescue helicopter did a low pass overhead – perhaps on a training flight – so was careful not to wave my arms around!    Climbed the famous "cantilever rock" – luckily a couple of other climbers were there, so I got my photo taken.
Next I continued to the summit tor – finding a way to the highest point proved quite a challenge!  After a few abortive attempts, I found a route to the top – 12 noon.  Glyder Fach thus became my 4th Welsh 3000er.
Time was pressing on, so I headed quickly on towards Glyder Fawr.  This wasn't quite as straightforward as exepcted, as first I had to negotiate a way round the "Castle of the Winds", another crazy jumble of massive boulders sitting astride the ridge.
A detour down and round the south side avoided most of the difficulties.  Once past, an easy path led across a col and up a grassy shoulder (below) to the summit of Glyder Fawr – a very busy place!
After touching the summit (an oddly split boulder) at 1pm, I found a slightly quieter place for a seat and a bite of lunch.   Superb views all round.
Aware that Anne would be waiting for me below, and that we still had a long drive home to Selkirk, I didn't linger long.  A steep descent on a worn path, then across some loose scree, brought me down 1000ft to Llyn y Cwn at the top of Twll Du – the Devil's Kitchen.
Y Garn (below) looked tanatalisingly close, but time dictated that it would have to wait for another day (or year!).
So … down the Devil's Kitchen  .. a steep and narrow gully.  The top was filled with horrible scree, but lower down, a staircase had been fashioned out of the boulders, so progress was easier, and great fun.
At the foot of this rock staircase,  I spied Anne making her way along the side of Llyn Idwal, so we enjoyed the last half hour's walk together, back down the path to the Youth Hostel at 2.50pm.
Summary:
2 Furths
8 km walk
850 m climb
5 hours
Log:
| | | |
| --- | --- | --- |
| Pen y Gwryd | 10:00 | |
| Glyder Fach | 11:30 – 12:00 | |
| Glyder Fawr | 13:00 – 13:30 | |
| Llyn Idwal | 14:20 | |
| Youth Hostel | 14:50 | |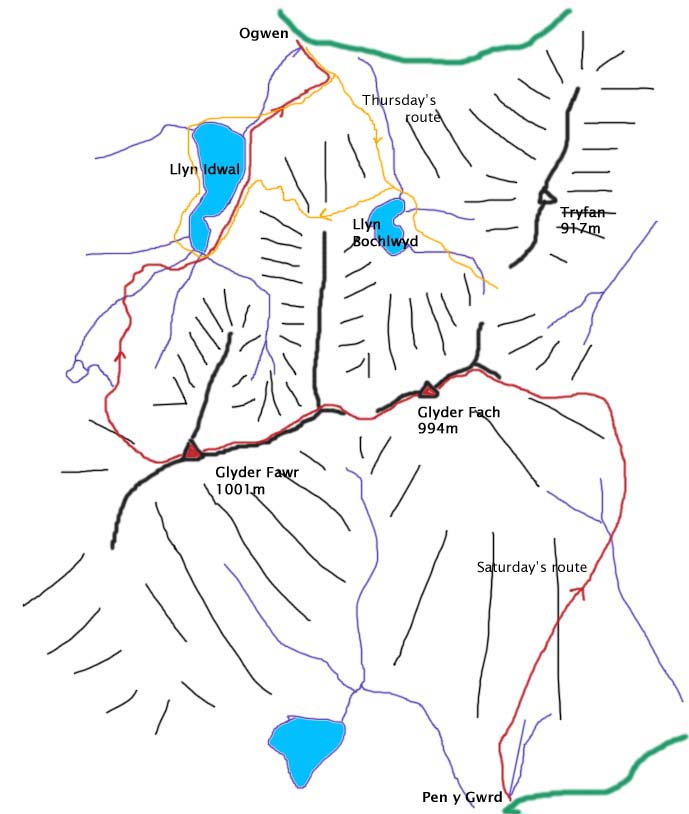 Views from Ogwen Youth Hostel:
… and another one that will need to wait until next time!