13 October 2014
Scottish Munros: compleated 1976 – 2011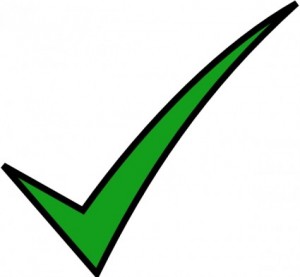 Irish 3000s: compleated 1998 – 2012
Welsh 3000s: compleated 2007 – 2013
So, that just left the English ones, to "finish the furths".
Well, I had climbed Skiddaw way back in 1976, Scafell and Scafell Pike in 1994, and Helvellyn in 1999.  But there remained two "tops" on Scafell Pike's north ridge – Ill Crag and Broad Crag – to be climbed, which Iain and I had missed in 1994, by taking the Lingmell route.
A possible weekend trip to the Lake District in September 2013 was postponed due to poor weather, and a busy first half of 2014 slipped by, but in October we headed off down to a log cabin at Fisherground (recommended) in Eskdale, hoping for a decent day during the week.
And so it was, on the Monday of our week, that Anne and I set out to drive up to Wasdale Head.   Arriving there at 9.30 am in a nearly empty car park, things didn't look too promising – cloud on the tops and a strong wind blowing. However, we decided to go for it anyway, and set off up the path.
It felt pretty wild and desolate as we headed up the well-worn path leading to Sty Head Pass.  About half and hour after leaving the car, I realised that I had left my camera in the car, so no photos en route in this blog post.  I considered going back for it (for about 5 seconds), but given the weather, it looked like I wouldn't miss it, so on we went.  A good lakeland path, so we made steady upward progress and reached Sty Head pass at 10.55 am.  Even windier up here, so we 'cooried doon' behind a large boulder for a rest.
Despite the wind, the cloud seemed to be lifting a little, so we decided to press on up past Sprinkling Tarn and on to Esk Hause.  Now we were in the mist, but it was a dry mist, and the wind had lessened, so again we pressed on upward.  After a further 10 minutes, and a chat with a couple coming down who weren't quite sure where they were and had turned back before the top, we stopped for some lunch.  We were now at 850 m, and about 1 km from Ill Crag, our first target, so starting to feel like we would make it.
The path soon levelled out on the broad ridge between Great End and Ill Crag.  Up to that point, route-finding had been easy with paths like mountain motorways.  Now we needed to branch off across the stony plateau, so tie to dig out the compass.  Just at that moment, the mist rose slightly, and we could see Ill Crag just ahead of us.  A couple of hundred metres across the stony plateau, then a short bouldery scramble and we were at the top.  Just to be sure, I headed across to the other top as well!
Ill Crag would be a fine viewpoint, but not this day. The mist continued to come and go, with both Broad Crag and Scafell Pike appearing and disappearing repeatedly.  After a brief stop, we headed back to the path, and followed it down to a col then up the southern shoulder of Broad Crag.
Wainwright is fairly scathing about Broad Crag: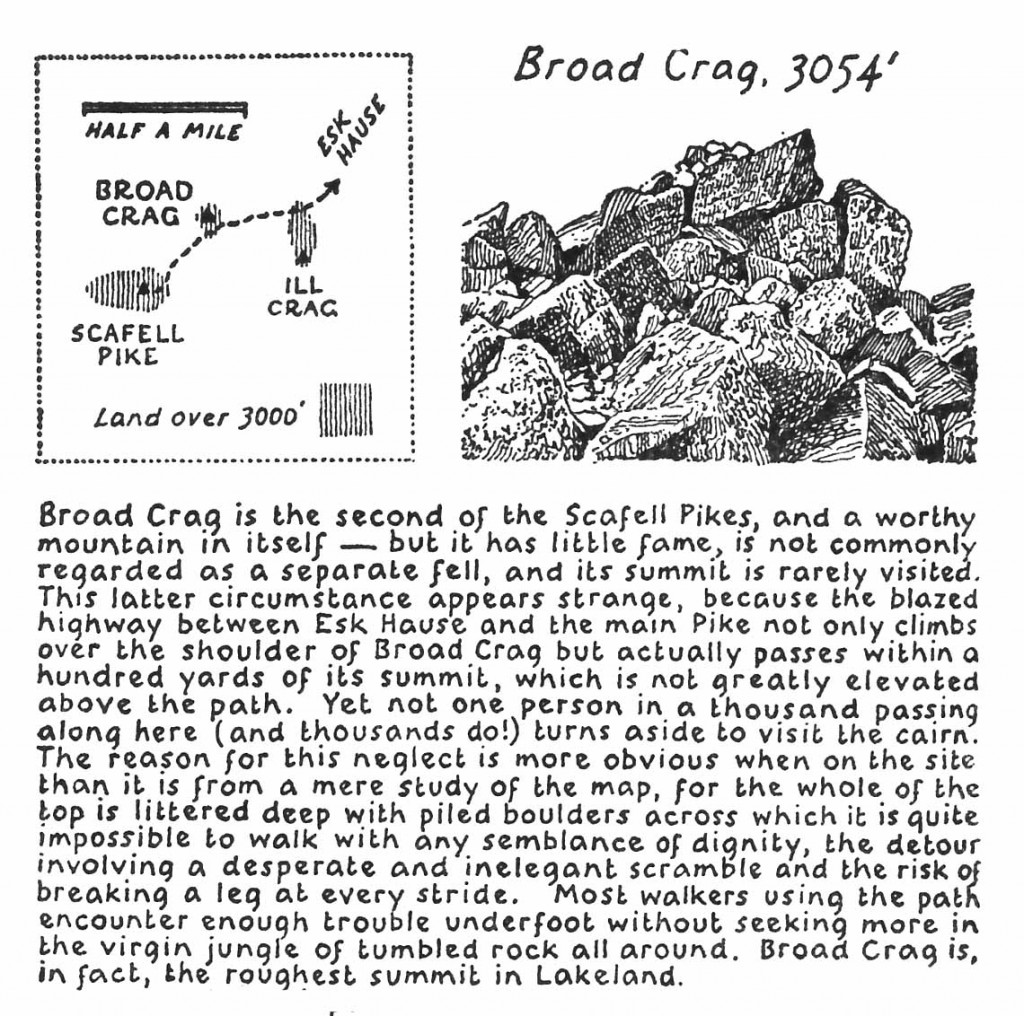 The scramble across the boulder field from the path to the top was indeed pretty hard going.  However, we manage it without "breaking a leg" and reached the top of my final Furth at 1.25 pm.  The mist had now risen well clear of the summit, so we did get a view, and lamented the lack of camera to record the moment.
So, where next?  Mission complete, but the summit of Scafell Pike was only  a few minutes away, and Anne hadn't been up there before, so we teetered our way back down to the path, then down to the intervening col, and on up to Scafell Pike itself.  For a couple of minutes just after 2 pm, we were the two highest people in England as we struggled to stay upright in the fierce wind on top of the massive cairn.  It was nice and sheltered behind the cairn, though, so time for a second lunch.
Next decision – which way down?  We decided to descend to Mickledore for a closer look at the notorious Broad Stand and Lord's Rake.  That was fine, but then we had an uncomfortable 15 minutes descending the steep scree gully to the top of Brown Tongue.  I would advise descending by the Lingmell col next time!
From here, the next hour was a gruelling descent down a built path.  Stone staircases are great for ascent and reduce erosion, but are hard going and unforgiving in descent on tired legs!  Back down to 200 m, we struck off right on a delightful little path which contoured round the western end of Lingmell, and then back down to Wasdale Head and the car (and camera!)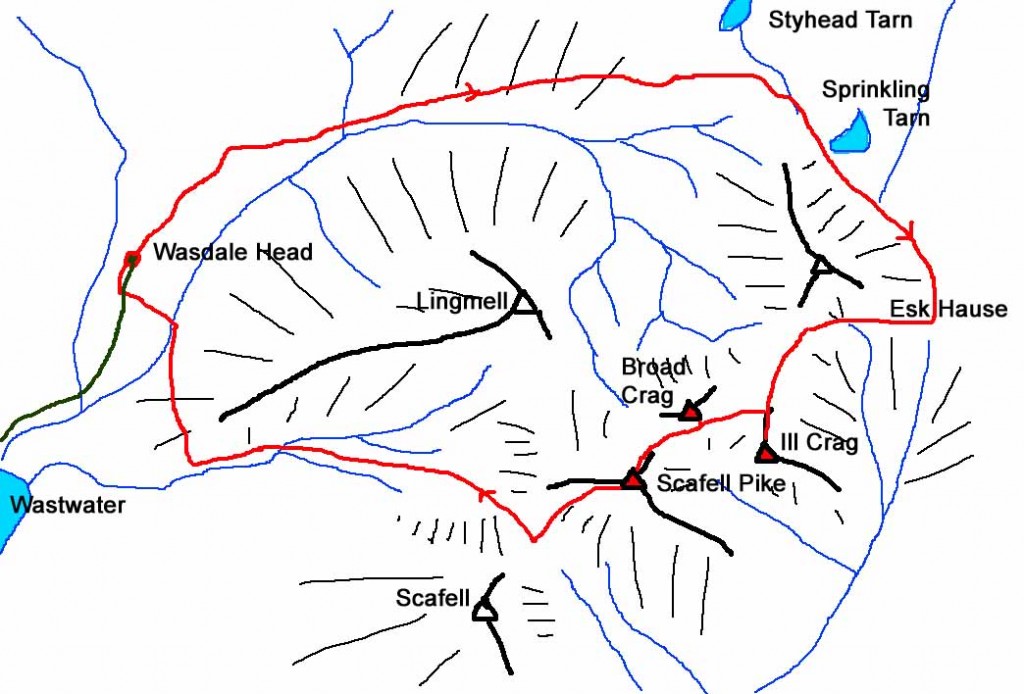 Good views looking back in the evening light.
Summary:
12 km walk
1020 m climb
7 hours

Log:
| | |
| --- | --- |
| Wasdale Head (70 m) | 09:35 |
| Styhead Pass (500 m) | 10:55 – 11:05 |
| Esk Hause (760 m) | 12:05 |
| lunch stop (850 m) | 12:15 – 12:25 |
| Ill Crag (930 m) | 13:00 – 13:05 |
| Broad Crag (934 m) | 13:25 – 13:35 |
| Scafell Pike (977 m) | 14:05 – 14:20 |
| Mickledore (885 m) | 14:40 |
| Wasdale Head | 16:30 |
(written and uploaded 19/10/14)
and here they all are for the record …